Trauma Treatment at Valley
Treatment Facility
Barling, Arkansas 72923

About Valley Behavioral Health Systems The foremost provider of mental healthcare services in the Arkansas River Valley, Valley Behavioral Health Systems offers individualized treatment for children, adolescents, adults, and senior adults who are struggling with mental disorders and chronic illnesses. All of the programs offered at Valley Behavioral feature treatment modalities that help patients acquire the necessary tools for lasting recovery and healing, as well as valuable skills for managing symptoms of mental health and chronic medical conditions. The treatment team at Valley Behavioral includes experienced mental health and medical professionals, who are trained and qualified to deliver superior and compassionate care. Additionally, each patient's family is encouraged to be involved in the treatment process as patients embark and navigate their journey down the road towards a happy, healthy lives. Lastly, the safe, secure, and serene environment in which Valley Behavioral delivers its services is extremely conducive to healing from several illness, such as posttraumatic stress disorder and other trauma-related illnesses. Signs and Symptoms of PTSD After a person experiences, witnesses, or hears about a trauma or traumatic event, signs and symptoms of posttraumatic stress disorder, also known as PTSD, can become apparent. Developing suddenly or beginning slowly and worsening over time, PTSD symptoms can cause a great deal of disruption in a person's life. Exaggerated startle responses, flashbacks about the trauma, overwhelming anxiety, and intense fear that something bad will happen are examples of such symptoms, which can ultimately cause impairment in an individual's functioning. Avoidance of certain places, hallucinations, and difficulty sleeping can subsequently occur if treatment is not sought. Additionally, friends and loved ones may observe sufferers of this condition as being in a constant state of distress long after the initial trauma occurred. Treatment for trauma-related disorders, such as PTSD, is available and has proven effectiveness in helping those that have endured trauma. Identifying signs and symptoms of mental duress following a trauma is crucial to determining the most appropriate treatment. In doing so, adverse consequences, such as the development of another mental illness or substance abuse problem or increased risk for attempts at suicide, can be avoided if proper care is implemented for those struggling with PTSD. Treatment Options at Valley Valley Behavioral Health Systems offers a number of treatment options for the treatment of disorders like PTSD, as well as other mental illnesses and chronic medical conditions. For children and adolescents, Valley Behavioral features inpatient care, outpatient services, therapeutic day treatment, and other school-based services. These services are geared towards helping young people achieve healthy functioning at home, school, and in the community. For adults struggling with psychiatric concerns, Valley Behavioral is pleased to provide inpatient, intensive outpatient, partial hospitalization, and outpatient services. The dignity of patients is highly regarded in these services and each program helps adults develop skills and receive education on mental illnesses that will serve them for a lifetime. Lastly, Valley Behavioral offers senior adults specialized care in their geriatric inpatient unit and follow-up services so that success beyond treatment can be guaranteed. Every patient at Valley Behavioral has access to qualified staff who can manage medication when needed and provide ongoing assessment and supervision of treatment so that healing can be achieved and maintained.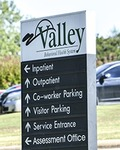 10301 Mayo Drive
Barling, Arkansas 72923
(855) 598-3324
Directions and Map

Ages & Modality
Toddlers / Preschoolers (0 to 6)
Children (6 to 10)
Preteens / Tweens (11 to 13)
Adolescents / Teenagers (14 to 19)
Adults
Elders (65+)
Individuals
Family
Group

My Specialties
Trauma and PTSD
Trauma
PTSD
Depression
Suicidal Ideation
ADHD
Anxiety
Borderline Personality
Oppositional Defiance
Alzheimer's
Bipolar Disorder
Medication Management
Self-Harming
Elderly Persons Disorders
Psychosis
Mood Disorders