Darryl Strawberry Recovery Center
Treatment Facility
Port Saint Lucie, Florida 34952

Our Services DSRC: Offering a Residential Treatment Program & So Much More. Our patients under the Strawberry Center Residential Treatment Program are provided with discrete, medical rehabilitation, followed by residential treatment, at different levels of care: Intensive Outpatient Partial Program Transitional Living Our Treatment Program Services Include: Individual counseling, Day & night outpatient program, Group therapy & peer support ,Introduction to the 12 Steps (AA/NA) Re-establishing communication skills Nutrition education, as well as dietary planning Christian recovery services, Spiritual development & religious services Marriage & family counseling Relapse prevention (individualized) Our Approach A Truly Compassionate Approach; Individualized Programs Tailored to Unique Needs At DSRC, we provide top-notch treatment and highly-developed recovery programs which are individualized to meet the needs of each guest staying with us. Each client's situation, personality, needs, and concerns are analyzed by highly-trained addiction specialists, and unique treatment plans are implemented. By utilizing a set of diverse methods of addiction treatment, our staff are able to manage & eliminate addictive tendencies from every angle, while we focus on returning our clients to complete wellness in not only their bodies, but their minds & spirits. Our compassionate treatment approach ranges from traditional 12-step tracks, to the implementation of cutting-edge technology such as High-Performance Neurofeedback. Our Detox If you've made the decision to seek treatment for your drug dependency, you've already taken the most difficult step. While you may think you can do it on your own, drug detoxification can produce dangerous side effects, and it is important that it is done with the appropriate medication under close supervision. Once you're admitted into the Darryl Strawberry Recovery Center's Drug Detoxification Center, your specific addiction and individual needs will be carefully analyzed to develop a safe and effective detox protocol that's tailored to you. The entire drug detoxification process typically takes between 5 and 7 days, during which time you'll be provided medication to minimize the side effects and the support of drug addiction specialists.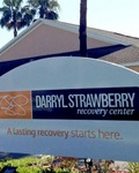 81 Beehive Circle Drive
Port Saint Lucie, Florida 34952
(609) 422-5449
Directions and Map

Ages & Modality
Adults


My Specialties
Addiction
Dual Diagnosis
Drug Abuse
Depression
Substance Abuse